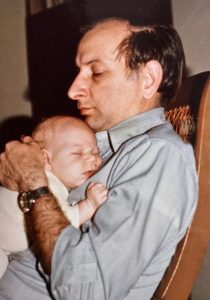 My old man died Saturday. He lived a long, rich life: born in Kansas during the Great Depression, he grew up in the Pacific Northwest, served in the Army, built planes for Boeing, earned a university degree at night, and worked for the Veterans Administration until his retirement. He was a good man and a good citizen, a loving father and a devoted grandfather.
I could tell a lot of stories about him, but this is the one I like best.
When I was fifteen, he drove me and my friend Ben out to Worcester to see R.E.M. at the Centrum. Upon dropping us off he gave me instructions on where to meet afterwards. Excited to see my first rock concert, I promptly forgot whatever he told me.
After the show the consequence of my neglect became apparent. Me and Ben walked around for quite a bit. Finally I saw a guy standing on a street corner with his hand raised, as if in benediction.
It was indeed my father. Once we didn't show up, he decided to get out of the car and make himself visible. He'd received a few high fives, and someone had asked him if he was the messiah.
He was good-natured about the whole thing. One of his many fine qualities was a subtle appreciation for the ridiculous.
So long, Dad.