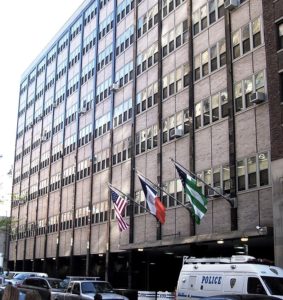 I lived in New York City for six years, three of them in Manhattan, not too far from the Police Academy. You'd see cadets wait at nearby intersections for the walk signal. Apparently they have to do that. I remember thinking if anything in that town could be considered authentically bizarre behavior, it'd be waiting dutifully to cross the street.
I also remember, with great fondness, 3X80 and 3X81. These were the medallion numbers* of the two undercover taxis often parked outside the academy. Every time I'd see a taxi – which, in Manhattan, is like saying every time I'd see a hat – I'd look to see if it was either of them. But it never was.
Until the very night before I moved out!
I was in a rotten mood and I'd run out of boxes. As I trudged to get more – it was raining too, if memory serves – I looked up to see 3X80 zipping down 2nd Avenue, lights and siren going. I think I actually clapped with joy.
Perhaps it was the Stone Roses, or maybe it's the weather or something like that, but I fell back in love with New York on my most recent visit. And I would not use the words "in love with" to describe how I felt about the place when I left.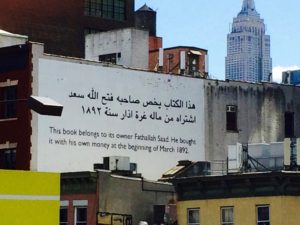 I originally wrote this post with an anecdote about the first apartment I rented there. It was on the same street that Serpico was shot, and that's what the anecdote  (a relatively anodyne one – I bet even Serpico would chuckle) was about. But it doesn't seem very funny these days.
So I'll instead offer these constabulary memories:
I'd gone to New York to join their Teaching Fellows program, through which those from other careers are trained to be classroom teachers. The most moving explanation I've ever heard, anywhere, for becoming a teacher came from a retired police captain. He said the biggest regret of his previous career had been having to arrest so many kids. He intended to help spare his former colleagues that pain.
Shortly after moving there, I met up with some teachers one night in Park Slope to, uh, review lesson plans. I was coming out of the, uh, meeting place when I saw a bus barrel past with this message flashing: "EMERGENCY CALL POLICE". So I took out my phone. The thing was, being new to the city, I always had a heck of a time keeping straight avenues and streets, and the poor 911 operator got frustrated – understandably so – by my inability to determine if I were on a street or an avenue. Then a police car sped by and pulled the bus over and the situation was (undramatically) resolved. I did my part, though.
I met a Teaching Fellow who had worked in the subway control center. I at once told him that The Taking of Pelham One Two Three was one of my all-time favorite movies (the original, ahem), and he began to explain to me its inaccuracies. I wish I could remember them, but at the time I was busy learning, often the hard way, the difference between a local and an express.
Lastly, on the aforementioned recent visit I was walking in the Village to meet a friend for dinner. I was in that part where the grid goes bonkers and 11th Street connects with 4th Street, or whichever. Thank goodness I saw no stricken buses.
Up ahead I noticed several police in helmets with rifles. Initially I gave a mental sigh that this is what policing had come to. Then I realized they were protecting the Stonewall Inn, which had only days before been declared a national monument, in turn some days after the Orlando massacre.
As I passed, I saw these officers were a diverse group of men and women, and I felt very proud to see Americans, whoever they are, looking out for people, whoever they are.
*Not their real numbers; I cannot rule out scoundrels from my readership.