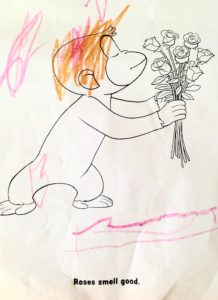 If you offered me a free ticket to the Beatles – and Frank Sinatra were opening, after which Abraham Lincoln would deliver a brief address – only three words could prompt me to refuse: Madison Square Garden.
MSG the Dread (per my friend Jeff's excellent epithet) is not improved by sitting atop an even worse abomination, Penn Station, a place that gives you an idea of what life would be like if America survived a Soviet nuclear attack.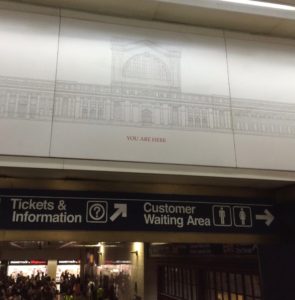 And just when I thought Penn Station could not be more dispiriting, I looked up and saw this. It's not a great photo (hard to unpocket and work the camera when stunned on an escalator), but it's an outline of the old, glorious Penn Station, and the caption reads YOU ARE HERE.
That's just cold.
Well, folks, Thursday evening I found myself willingly up above in "the Garden" (has any noun been employed more wrongly?) and it was lovely. The Stone Roses performed and were magnificent.
I'd seen them twenty years ago in DC and they were not magnificent, nor did they have their original drummer (roughly akin, I guess, to a Moonless Who). This time Reni was there and they played every song from the first album. Moreover, they looked like they were having fun, and so did the crowd. I sure did. Perhaps you heard my singing.
If you missed it, the bad news is it was their only show in the Western Hemisphere. The good news is the other shows are nowhere near Penn Station.