Last week I did exit interviews with students about the best books they read this year. To model the behavior, as we say in the business, I stood before each class and interviewed myself about The Catcher in the Rye.
To describe its broad appeal, I mentioned an experience reading it for the first time. While I waited for the #34E in Dedham Square one autumn long ago, a passerby poked his head into the bus shelter: "That's the best book you're ever going to read!" he said, then walked away.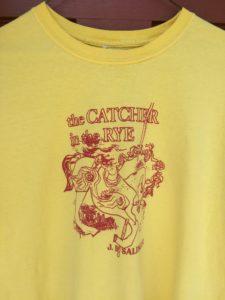 On Friday I was wearing the above t-shirt (such are my exertions to build a culture of literacy), and during break went out to get a coffee. As I passed a nearby construction site, a hardhatted gentleman stepped into my path.
"Catcher in the Rye," he said, grinning. "You remember that scene where Holden sees [bad word] on the wall, when he's with his sister?"
I replied that I did indeed.
"Once I had this supervisor giving me a hard time about graffiti on a site. I told him, there's no way you could ever get rid of all the [bad words] in the world, even if you had a million years."
Chuckles ensued, good days bade, the culture of literacy affirmed. I was damn near bawling, I felt so damn happy, if you want to know the truth.