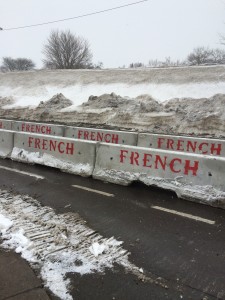 The other day I asked for a kiss and instead received a slap. Though only a toddler, my daughter's got a mean open hand, and I see no reason to interpret this exchange as anything but portentous.
That very afternoon, coincidentally, I was passing out laptops for a reading level test, and asked a student of Haitian descent to help. He indulges my attempts to practice conversational French, so I said, "Tu peux m'aider…" and briefly blanked before coming up with "…distribuer?"
The exertion of retrieving "distribute" must have slapped some synapse that in turn recalled this article, about a student attacking a teacher in Bordeaux. What's memorable to me is its use of "distribute" with "slaps":
…il a croisé le professeur, l'a roué de coups et lui a distribué des gifles…
Voila l'élégance française!
PS slapping teachers is bad in any language. Please don't.