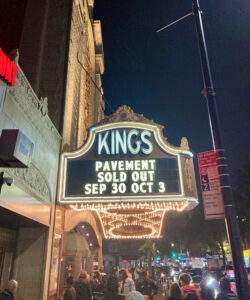 In the late 1990s I became smitten with a Welsh psychedelic pop band, the Super Furry Animals. I first saw them in Boston, then a couple years later in Seattle, where I'd moved, and then a few times in New York City, where I'd moved again. I'd stand in the crowd and imagine a conversation with the band, catching them up on what's new: Hi fellas! Life sure has changed since last we met! I'm living here, dating her, working there…
Don't act like you never think weird stuff too.
On Saturday I went down to Brooklyn to see Pavement for the first time in twenty-eight years. I didn't even know where to begin, imaginary conversation-wise.
Below are comments on the band and the show. They may be of cascadingly diminishing interest to those not into Pavement, so be advised before clicking through. Either way, if you don't know Jim Pepper's magnificent "Witchitai-To," click on that. It was their encore closer, and my new favorite song.
I went to a party in college, and started talking to these guys about music, and they persuaded me to join them in a drive down to Washington, DC to see Pavement, about whom I knew nothing. We saw them at the Black Cat, a small club that had opened a few months before.
I liked their set, but the thing I remember most was them themselves. They looked and acted like normal guys. You have to remember, this was 1994, when most indie bands looked like they'd grabbed items off thrift store racks blindfolded. Pavement wore jeans and sweatshirts. They had an enviable camaraderie. They'd talk between songs and make each other laugh. (I'd been in a band that had broken up the year before, and was sensitive to this.) They didn't act bored like a lot of bands did. Their lack of affectation was revelatory for me.
When people ask me what their music is like, I say that about a third of their songs are dreadful rackets, but the rest are tuneful and range from serviceable to sublime. When they performed, they'd sometimes start borderline shambolically before locking in. (I saw them again later that year, and they fluffed the intro to "Here" and had to start over. "Here" is a very simple song. This is like messing up your ABCs because you got stuck on D. "Still slacking after all these years!" Bob said.)
***
O Bob! Since the last post discussed the Happy Mondays, I deem Bob Pavement's Bez. Seriously, why do bands go without such characters? It was so good to see him again, jumping around and shouting.
The show was a lot of fun, and I'm glad I went. I've been to three shows this year – Nick Cave, Barry Manilow, and Pavement – and each has a devotional fanbase. You pick up the atmospheric thrill real fast.
The setlist was, my friend and I agreed, "insufficiently Slanted and Crooked," but such is luck. They've been changing around the setlist every night on this tour. I wish I had the money and leisure to have seen all four nights, but neither permitted.
When my fact-checking cuz Frisco Johnny saw them in SF, they closed with "Fillmore Jive" (roughly, their "Purple Rain"). I would have swooned.
***
I went with my friend Ryan, whom I had not seen in over two years. How does this happen, dammit. One of the things I like least about middle age is the growing number of friends I see only annually, if that.
But man, we did it up. We went to French Louie and had oysters and [martinis and steaks and Bordeaux and bananas foster profiteroles] and the check when it arrived, we went dutch, dutch, dutch, dutch!
Last time we did it up like that was when we went to see the Stone Roses reunion show in 2016. C'mon, Smiths. Me and Ryan could use another good meal.
I liked seeing the show with Ryan for a lot of reasons, but one of them is he is a Pavement-savant. (I have a profound affection for the band, but don't know all their stuff.) Whenever I asked what something was, he knew straightaway.
True story: when Ryan got engaged, I sent him a can of Brazilian nuts.
***
Sorry? Was that me tearing up whilst singing along to "Summer Babe"? How about you mind your own business.
***
So what would I say to the band? Where to begin. I mean, the last time I saw them, I wasn't old enough to buy a beer. I guess I'd tell them this: the t-shirt still fits, and my daughter took the photo.