Not long after graduation, way back when, I was talking to a friend's dad about my job hunt, and he said, "Looking for a job is a soul destroying experience." He said it in that way you'd say something serious but intended to be amusing, so I chuckled. I've since had ample opportunity to consider how unamusingly correct he was.
Some folks I know are looking for jobs, so I thought I'd share these aperçus from my last job search.
***
I went to get my Nice White Shirt from the cleaners, and the guy said it wasn't ready yet. "What are you going to do?" I asked.
I guess my default snarl evoked Tony in some other situation, because the guy started talking about how he could call the supervisor etc. And I was like: Dude, don't worry about it. I'll just come back tomorrow.
The interview was in a few days, and the cleaners was around the corner, so it really was no big deal. I returned, got it, and indeed looked sharp.
***
The interview was at a high school in a neighborhood of Boston that I'm not familiar with. I walked in and was immediately and paradoxically disoriented because the interior seemed uncannily like the high school I'd attended a quarter-century before, in a different Boston neighborhood, and to which I've not yet returned.
I got to the room for my interview, and there were a whole bunch of people around the table, and the principal asked me which job I was applying for. I said: I don't know.
The principal started laughing, and not in a "Why, this fellow is the very soul of wit! Let us hire him at once!" way.
(I had, you see, heard that in interviews it's important to say "I don't know" when you're asked a question you don't know the answer to. I'd applied for two open positions. I was happy to take either. In retrospect, I should have answered differently.)
The other thing I remember about the interview is that I was queried with some persistence and specificity about what I'd do if a fight broke out in my classroom. Even to someone as generally obtuse as I this seemed like a red flag.
Anyway, I didn't get a callback.
***
A couple weeks later I had an interview in Cambridge, and it was such a nice day that I decided instead of switching trains I would get off and walk. Mistake.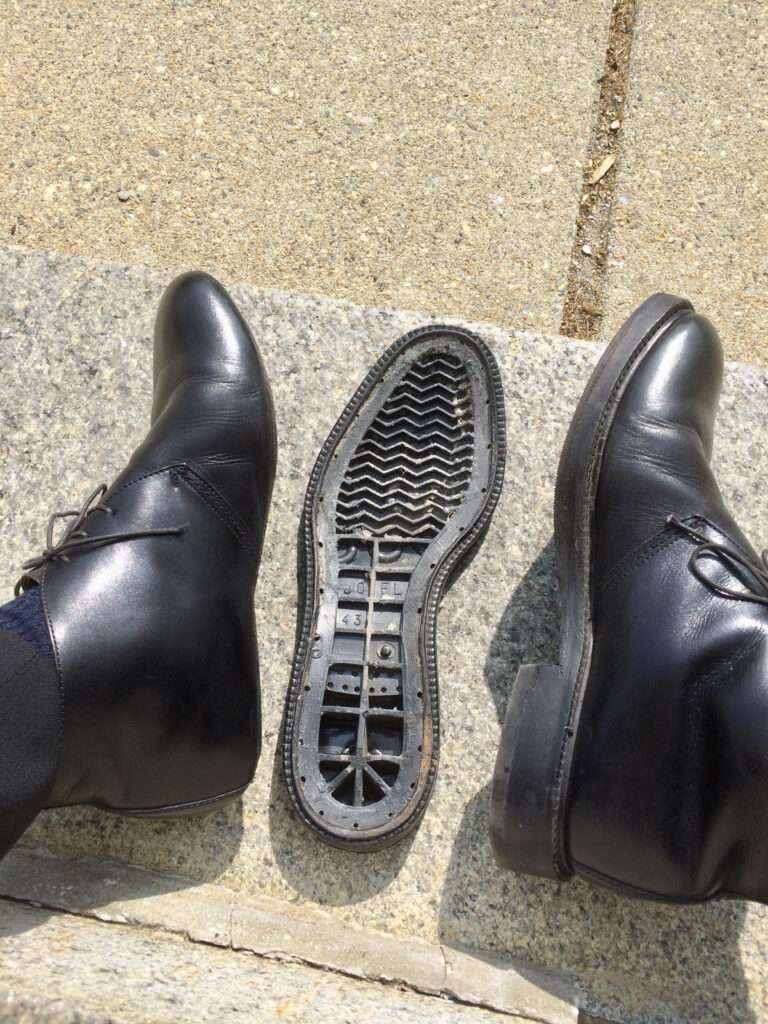 I can't say I found it as funny as she did, but I am grateful to the the secretary, who gave me some clear packing tape.
For some reason I didn't get that job either.
It was…
wait for it…
… a sole destroying experience!