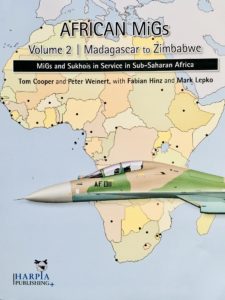 I developed an interest years ago after seeing one take off in Guinea.
The first volume, alas, I left at my quarantined school, but here are three interesting sentences from the second:
Canada, keen to gain a foothold in Tanzania since 1963, took the place of West Germany and in 1965 launched a project worth USD10.5 million with the aim of bolstering the JWTZ [Tanzania People's Defence Force].

For most of the 1990s, between 30 and 60 Iraqi pilots and technicians served in Sudan, particularly with the air force, and they frequently became involved in combat against the SPLA [Sudan People's Liberation Army].
In 1981, when Somalia began its cooperation with the US, a small group of pilots from the USAF's then secret 4477th Tactical Evaluation Flight 'Red Eagles' spent several weeks in the country for a joint exercise with the CCS [Somali Air Force].
The second volume is worth it alone for the Addenda/Errata section, which features extensive comment from Lt Col Eduardo Gonzalez of the Cuban Revolutionary Air and Air Defense Force:
Regarding the South African claim of 300 Cuban casualties and 30 damaged and destroyed tanks during the clash near Tchipa on 26 June 1988, Gonzalez commented wryly:
That goes into the same ditch as those claims for '40 South African aircraft shot down' claimed by the Angolans. From wherever they come, I cannot stand lies – even those cooked up in my backyard!
If you're unsure why you'd want to read two volumes about Soviet-era aircraft in Sub-Saharan Africa, I'd make some variation of Tyler Cowen's argument on why you should read art books.
PS check out the roundels! (A roundel is each air force's ripoff of the Who logo.) My personal favorite is from the former People's Republic of Benin – understated yet distinctive. Uganda's, distinctive yet not understated, is a close second.
PPS pop quiz: There are baseballs in circulation that are each signed by George HW Bush, Ted Williams, and which former chief of an air force on the African continent? (h/t Dan Shaughnessy)