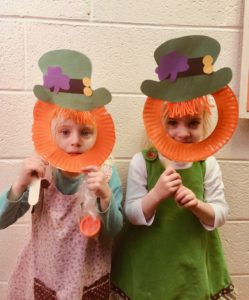 The twins have become enamored of making slime. The other day Twin 2 looked up from hers and said: "Did the elf die yet?"
Now, the thing about Twin 2 is, she gets furious if she has to repeat herself more than once. It's not the Achillean rage of when she was two, but it's definitely no joke. And sure enough, my attempts to clarify met with her displeasure. I even tried patting my gut and asking if she meant "diet" – not that this would have shed much light – but it's important to her to perceive engagement.
Finally I realized she meant not an elf but a leprechaun. At her preschool, for Saint Patrick's Day, the kids would arrive to find chairs upside down, glitter on the floor, etc, for he had visited the night before. Twin 2 had been complaining that whatever color she'd make the slime, it would gradually fade to white overnight. So, you see, she was wondering if the leprechaun had dyed it.
***
This in turn reminded me of a classroom visitor about a decade ago, around the time of the previous post. An admissions officer from a college in Scotland came to talk to my 6th graders. (She'd made her pitch at the Lycée Français, where I had a friend working, and graciously agreed to swing by our school in the afternoon.)
So she began her presentation, which was a slide show dispelling myths that Scotland was all haggis and kilts and etc. The problem was, the students didn't know much about Scotland in the first place. Finally a kid asked if "the little green guy" was from there. After ascertaining that he meant the leprechaun, she gamely flipped her script and used the slideshow to teach Scotland 101: "So, the bagpipe is one of our traditional instruments…" It was gracefully done.
***
Less graceful was my interaction with Twin 2 in the supermarket a couple of weeks ago. She'd asked when I'd make chicken salad again. In retrospect, obviously I should have used active listening skills to buy time ("Ah, so you have a question. And what you're wondering is…"). Instead, I replied that I had never made chicken salad, and never would make chicken salad, because chicken salad is disgusting.
This set her off, and she became so insistent I'd made it many times that she wound up in tears. Finally I figured out she meant salad with chicken in it (one of my gourmet specialties is chicken tenders on lettuce). I tried to explain to her the difference, unsuccessfully. As far as Twin 2's concerned, her father doesn't know chicken salad from chicken shawarma.