Years ago I taught in a middle school in Brooklyn. One afternoon a week the kids would read silently – well, that was the idea – from a classroom library kept in a wheeled locker.
One day a girl held up the book she was reading and said she'd emailed the author, who replied that he'd come visit. Since kids are, in my experience, second only to adults for saying obviously unbelievable stuff, I nodded and carried on. A couple weeks later we were all in the auditorium with the author up on stage.
I must tell you, Gentle Reader, that this school was not overly distinguished by civility. I figured he'd get his head handed to him. But he talked about his book Be More Chill, and the kids loved it. I was impressed.
***
A few years later – almost ten years ago to the day – I emailed Ned Vizzini myself. I was then still teaching in Brooklyn, but now at a less chaotic middle school. I invited him to come talk to our students. He readily agreed. When I told him I didn't know how much we could pay him, he said just to pay whatever we could.
He gave a talk to all the students in the auditorium, then held a smaller writing workshop. The kids loved it. I gave him a check for one (1) hundred dollars. A few days later I received this: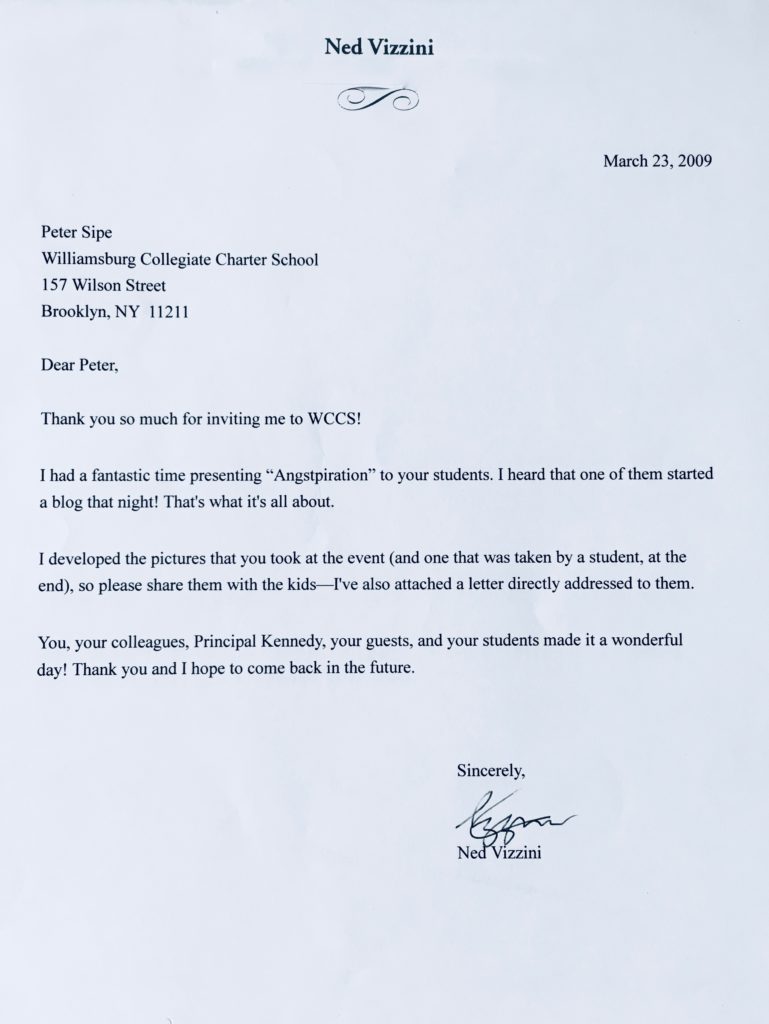 Just to recap: he was paid (significantly) under the going rate, gave a talk to all the students and afterward ran a workshop, then developed and sent me pictures, and a thank-you note, and a letter to the students.
***
In the years that followed I'd send him stuff I'd had published. He was always very kind and encouraging. In our last exchange we shared the joke about how writing editorials is like wetting your pants in a blue serge suit (you get a nice warm feeling, and no one notices). He took his life a few months later.
Here's his New York Times obituary.
***
That teenagers find Be More Chill relatable is what convinced Gerald Goehring to produce it. That, and some astonishing stats — Goehring says the cast album has received "well over" 160 million streams.
"How do you plan this?" Goehring says. "How do you market to this? You don't."
In fact, Goehring says the off-Broadway run sold out without a penny of traditional advertising — just a social media presence.
On the strength of its fans, Be More Chill has moved to Broadway.
---
If you're having suicidal thoughts, call the National Suicide Prevention Hotline to talk to a counselor: 1-800-273-TALK (8255)