1. Henry Ford Is the Village Industry Preservation Society
Henry Ford will necessarily be remembered in the United States for centuries, and often, when he was talking to me, a little inquiry arose in the back of my head as to the thing for which he would be best remembered. After much consideration, I reached the conclusion that future generations would honor Ford most, not because he acquired a billion dollars by paying better wages and selling good automobiles for less than anybody else; nor because of his marvelous ability as an industrial organizer; nor because he took the first great steps to stop the waste of water power; but because he revolutionized agriculture.

I came across The New Henry Ford in the stacks of the Boston Athenaeum. It was published in 1923.
Ford had it figured out so that farmers would work for 25 days on their farms, "and have the other 340 days, except Sundays, to earn money in village industries."
When it comes to agriculture this city boy doesn't know his adze from his elbow, but he's pretty sure that's not how it is.
2. Anyone for Tolerance?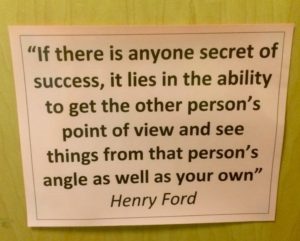 I saw this in a school a few years ago. It stopped me for a couple of reasons.
Given that Ford's empathy for the Abrahamic faiths was, er, selective, his success seems due perhaps to some other secret:
During the months that I was in Ford's office obtaining the material for this book, Ford often talked to me about the Jews. He gave me two leather-bound books composed of articles printed in the Independent and asked me to read them. He quickly learned that I did not share his views… "Well, read them right away," he continued, "and then if you do not agree with me, don't ever come to see me again."
3. If You Build It, They Will Come. But.
I mentioned The New Henry Ford to two history (or, per Hank, bunk) teachers I know, Messrs. Miller & Teague. They both directed me to Fordlândia.
Holy moly. "Ford's Fantasyland" indeed.
"With a surety of purpose and incuriosity about the world that seems all too familiar, Ford deliberately rejected expert advice and set out to turn the Amazon into the Midwest of his imagination," Mr. Grandin, the historian, wrote in his account of the town. These days, the ruins of Fordlândia stand as testament to the folly of trying to bend the jungle to the will of man.
Encore
Guess whom I thought of upon seeing The New Henry Ford?
When my esteemed indie band performs a (rare) encore, we'll start with a thumping cover of "Hello Goodbye" and segue into a surpassingly rocking "New Mother Nature." I may even have a go on the drums. I have given this some thought.